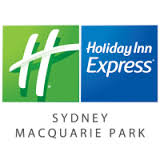 Holiday Inn Express debuts
A MONTH in from opening, the Holiday Inn Express Sydney Macquarie Park is already seeing overnight stay duration exceeding projected forecasts, and is on track to achieve 70% occupancy levels by the end of the year The numbers are fuelled by guests from many of the international pharmaceutical and technology companies based in the surrounding area.
The above snippet is the first part of an article sent to subscribers in Business Events News issue from 12 May 16
CLICK HERE to download Business Events News from 12 May 16
Make a comment...
Established in 2012, Business Events News is Australia's leading travel events industry publication, and is sent as a free subscription to people across the industry as a PDF newsletter every weekday.

To sign up for a free subscription, click on the button at right.
Click here to see a sample issue of Business Events News.
Click here for more information on subscriptions.
Alternatively, you can search our site via the search box on the right hand side of the page, or find other content below.
Recent Business Events News articles
---
Show Business Events News items by month: