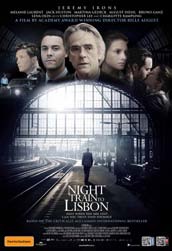 This week, BEN and Pinnacle Films are giving five lucky winners the chance to win a double pass to the new movie, Night Train to  Lisbon, due for release on 5th December.
After a chance encounter with a Portuguese woman, Swiss professor Raimund Gregorius quits his job and embarks on an adventure to Lisbon that will take him on a journey to the very heart of himself.
Check out the trailer here: www.youtube.com/ watch?v=9Ds5L7qS85s.
To win, be first person to email the correct answer to the daily question below to: comp@businesseventsnews.com.au
Monday 25 November 2013
What country is Jeremy Irons' character from?
Wednesday 27 November 2013
What country is Lisbon in?
Friday 29 November 2013
Name another film Jeremy Irons has starred in?